Trending...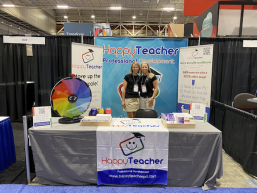 ISTE's annual conference is here! Comprised of teacher classes, discussions, and panels, the conference will embolden educators in the digital age.
NEW ORLEANS
-
LouisEagle
-- If you are an educator, you do not want to miss the International Society for Technology in Education's (ISTE) leadership conference. Hosted in New Orleans from June 25th to 29th, the event will include both live-streamed sessions for watching in real time and recorded sessions for on-demand viewing over the next six months. From
teacher classes
and interactive presentations to networking opportunities and social outings,
ISTELive
will have countless opportunities for professional growth. Whether you attend in person or register for virtual access, you will be able to use all that you learn from the conference to boost your career.
Called the "Edtech Event of the Year," ISTELive is thought-provoking, inspiring, and engaging. Featured speakers will fly in or log on from all over the world to discuss topics affecting educators in the modern world.
More on louiseagle.com
The event kicks off on Saturday, June 25th, with pre-conference activities. Those who attend in person are invited to explore New Orleans all morning and immerse themselves in the city's rich culture. Then, at 1 p.m., Weston Kieschnick will lead a guided strategy session. An award-winning educator, author, coach, and TEDx speaker, Kieschnick will explore which technologies should be used in the digital age and which should be abandoned.
On Sunday, June 26th, ISTELive officially kicks off at 3 p.m. with an exciting session that includes five presenters. A reception will follow. There will be dozens of pre-conference activities all morning, so participants can start exploring the world of edtech bright and early. Three full conference days will follow. They will be comprised of virtual presentations, creation labs, and interactive sessions.
As society advances, technology will play an increasingly larger role in education. Educators who are proactive about harnessing its power and attend conferences like ISTELive or enroll in
professional development courses for teachers
will always be one step ahead of their colleagues. More importantly, they'll always have a host of valuable resources to share with their students.
If you can't make it to New Orleans this weekend for ISTELive but still want to attend, it's never been easier. Simply
register for a virtual pass
, and you'll be able to access more than 100 live-streamed sessions and 200 archived sessions from the comfort of home.
Source: Boulder SEO Marketing
---
0 Comments